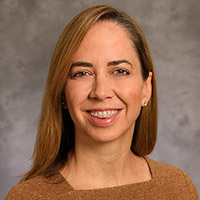 //= get_field('provider_name') ?>
Shannon Kahn MD
TITLE
Medical Director of Radiation Oncology Emory Saint Joseph's Hospital
Radiation Oncology
Brain & Spine
Breast
Esophageal
Thoracic
About the provider
Shannon Kahn, MD, is Medical Director of Radiation Oncology at Emory Saint Joseph's Hospital and is also an attending physician at Emory Proton Therapy Center. A board certified radiation oncologist, Dr. Kahn is skilled at Gamma Knife radiosurgery, partial breast irradiation and breast brachytherapy as well as stereotactic body radiotherapy in the treatment of early stage lung cancers. She has published and trained in the use of intensity modulated radiotherapy and its benefits in the minimization of treatment-related side effects.
Dr. Kahn is a clinical member of the Cancer Prevention and Control Research Program at Winship Cancer Institute.
Education
Dr. Kahn received her MD at Emory University School of Medicine. She completed an internship in internal medicine and her residency in radiation oncology at Emory University. She attended the University of North Carolina at Chapel Hill where she earned her Bachelor of Science in Business Administration and a Master in Accountancy. She worked for Arthur Andersen as a certified public accountant and financial auditor prior to pursuing her medical career.
Research
Dr. Kahn's research interests include examining newer technologies and treatment modalities in the treatment of breast cancer in order to minimize cosmetic changes while maximizing long-term tumor control.
Publications
Dr. Kahn has authored and co-authored numerous articles for both submissions to national research and healthcare meetings and to national and international peer-reviewed publications and book chapters. She has published on the use of radiotherapy in Hodgkin's and non-Hodgkin's lymphoma, the effectiveness and side-effect profile of radiotherapy in the treatment of prostate cancer, and the use of alternative treatment modalities for long-term treatment sequelae in head and neck cancers.
Awards
Dr. Kahn has been consistently listed in Atlanta Magazine's annual "Top Doctors" issue.
Board Certifications
Radiation Oncology
American Board of Radiology, 2012