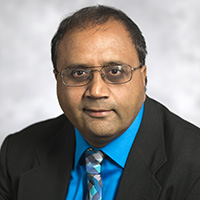 //= get_field('provider_name') ?>
Ashesh Jani MD
TITLE
James C. Kennedy Professor in Prostate Cancer, Winship Cancer Institute of Emory University
About the provider
Ashesh B. Jani, MD, MSEE, FASTRO, is a board certified radiation oncologist in the Department of Radiation Oncology at Emory University School of Medicine in Atlanta, GA. Dr. Jani practices general radiation oncology and specializes in the treatment of prostate, bladder, kidney, and testicular cancer. He treats patients at Winship Cancer Institute of Emory University.
Dr. Jani was born in India and moved to Chicago, Illinois, at the age of three. He is married and has twin boys. He is an avid sports fan, particularly of tennis and NFL. He enjoys spending time with his family, playing tennis, watching movies and traveling. He has traveled throughout the US, to 49 states, and has visited 9 other countries.
Education
Dr. Jani received his bachelor's degree in electrical engineering and master's degree in electrical and computer engineering at University of Illinois at Urbana-Champaign. He worked in the research and development departments of two major corporations before receiving his MD from University of Illinois at Chicago. After completing his internship at Rush Presbyterian St. Luke's Medical Center in Chicago, he completed residency in radiation oncology at the University of Chicago, where he served as chief resident.
Research
Dr. Jani's research focuses on different aspects of prostate cancer. His prostate database work centers on understanding the demographic, disease, and treatment factors influencing cancer control outcomes. He is also interested in the development of imaging technologies/algorithms to improve radiotherapy planning. He participates in several clinical trials involving radiation for prostate cancer.
Publications
Dr. Jani has authored many journal publications, presented numerous research abstracts and has served as a moderator for several scientific meetings. He is a peer reviewer for radiotherapy, oncology and technical journals. Previously, he was a writer and examiner for the American Board of Radiology's written and oral certification examinations.
Awards
Dr. Jani has been the recipient of many awards including the American Society of Clinical Oncology Merit Award, Samuel Hellman Outstanding Teacher Award and ASTRO-ESTRO Travel Grant.
He has also received several research grant awards including:
Cytogen Corporation Research Grant
RSNA Seed Grant/Award
American Society for Therapeutic Radiation Oncology Junior Faculty Research Award/Grant
American Cancer Society Research Grant
Georgia Cancer Coalition Distinguished Cancer Clinician/Scientist Research Grant
NIH-R01 Research Grant
Department of Defense (DOD) Prostate Cancer Research Program (PCRP) Grant
Board Certifications
Radiation Oncology
American Board of Radiology, 2001