Take On Cancer With Precision
Proton therapy is an extremely precise form of radiation treatment. Most radiation treatments use X-rays, but proton therapy uses protons, which are tiny particles from the center of an atom. Compared to a beam of X-rays, a proton beam can better concentrate the radiation in the target, conforming more closely to the shape and depth of a tumor and avoiding normal, healthy tissues. Another unique feature is that after treating the target, protons come to a complete stop, meaning they deliver no radiation dose to areas beyond the target, resulting in less radiation to healthy tissues around the tumor.
Because proton beams can reduce or eliminate radiation to sensitive normal healthy tissues and organs, proton therapy may reduce some of the side effects that can occur as a result of radiation treatments and may reduce some potential long-term side effects and risks that can occur months or years after radiation treatment.
Clinical Benefits of Proton Therapy
Reduced or avoidance of unnecessary radiation to nontarget healthy tissues and organs
May result in fewer side effects and risks compared to photons in certain patients
Reduced risk of secondary cancers caused by radiation
Helpful in treating complex or irregularly shaped tumors that are in close proximity to vital organs, critical structures, or important healthy tissue
May be used to treat tumors that have recurred after prior radiation treatment, a situation where other types of radiation may not be a good option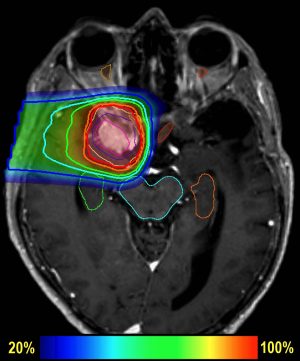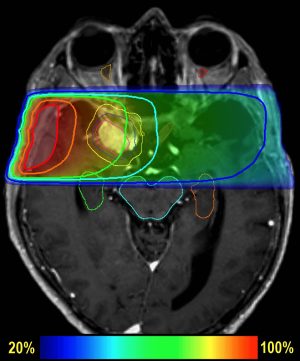 Serving Georgia and Beyond
As the only proton therapy center in the state of Georgia, we serve as a specialized resource for patients across the region. Our team can deliver proton therapy in coordination with other specialists outside of Emory, partnering with a patient's existing care team whether they are across town or across the world.
Telehealth appointments are available for patients who wish to learn more before coming to Atlanta. Our team is available to help identify housing and transportation resources for patients. The center is conveniently located in Midtown Atlanta and provides complimentary valet parking and free on-site garage parking for patients.
Technology & Capabilities
The Emory Proton Therapy Center features the most advanced proton therapy technology available. Each of the five treatment rooms features pencil-beam scanning, which delivers a narrow stream of protons that are magnetically steered to "paint" the radiation to the shape of the target. Advanced imaging in the treatment room, including cone-beam CT scans, allows for precise patient alignment before treatment delivery.
The freestanding proton center provides all resources needed to design and deliver proton therapy for both adults and children, including on-site CT for radiation planning and MRI for treatment planning or diagnostic images, blood draws for labs, minor procedures such as fiducial marker placement, fluid resuscitation, and sedation and anesthesia services for children. Patients may be seen in consultation at the proton center or at other Winship locations to provide the most convenient scheduling and care coordination.
Access to Proton Therapy in Georgia
The Emory Proton Therapy Center is:
The only proton center in the state of Georgia
Equipped with the most advanced technology, intensity-modulated pencil beam scanning in all five treatment rooms
Affiliated with Winship Cancer Institute, Georgia's National Cancer Institute (NCI)-Designated Comprehensive Cancer Center and one of only 49 across the country
Staffed by Emory faculty disease site specialists who have the expertise and experience to determine the appropriate use of this advanced technology as part of a complete, comprehensive and personalized treatment plan
An internationally recognized center with active research and open clinical trials
Centrally located, within walking distance of Emory University Hospital Midtown and 10 miles from Hartsfield-Jackson Atlanta International Airport, served by mass transit and just minutes from major highways
Is Proton Therapy Right For My Patient?
Our radiation oncologists use clinical practice guidelines and available clinical evidence when determining whether proton therapy is appropriate, considering many factors including:
Appropriateness of radiation for the given tumor histology and stage
The patient's age, prognosis, and life expectancy
Anticipated ability of proton therapy to reduce side effects or risks of radiation in the patient's care
Proximity of tumor to vital organs
Presence of any genetic conditions which may predispose patients to greater risks from radiation
Patient Referrals
Our radiation oncologists are available to discuss potential indications or patient cases being considered for proton therapy, or to help identify more appropriate treatment options. We look forward to partnering with you in caring for your patient.
To refer a patient, please complete the referral form below or call toll-free at 1-833-377-6866.
Physician Directory
Winship's Physician Directory, the WinshipMD app, is available exclusively for physicians and advanced practice providers, providing access to the direct contact information for Winship physicians, with the ability to search by name, location, or specialty. Request your access at: winshipcancer.emory.edu/mddirectory.