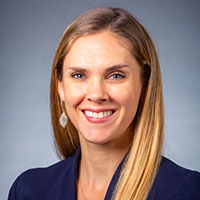 //= get_field('provider_name') ?>
Bree Eaton MD
TITLE
Pediatric Medical Director, Emory Proton Therapy Center
Radiation Oncology
Brain & Spine
Lymphoma
Pediatric
Sarcoma (childhood & young adult)
About the provider
Bree Eaton, MD, is a board certified radiation oncologist in the Department of Radiation Oncology at Emory University School of Medicine in Atlanta, Georgia. Dr. Eaton specializes in the treatment of brain and spine tumors, sarcomas and pediatric malignancies, with a particular focus in the use of proton therapy. She treats patients at Winship Cancer Institute of Emory University and Emory Proton Therapy Center. At the Emory Proton Therapy Center, Dr. Eaton serves as the Pediatric Medical Director.
Outside of work, Dr. Eaton enjoys spending time outdoors with her husband and two sons, as well as running, cooking, listening to live music and traveling.
Dr. Eaton is a member of the Cancer Prevention and Control research program at Winship Cancer Institute. She also serves on the NRG Oncology Patient Centered Outcomes Research Committee, and is an active member of the Children's Oncology Group and the Pediatric Brain Tumor Consortium.
Education
Dr. Eaton graduated summa cum laude from Denver University with a BS in Cognitive Neuroscience, and completed medical school at the Medical University of South Carolina where she was elected in the Alpha Omega Alpha medical honors society. Dr. Eaton completed her Radiation Oncology Residency at Emory University where she was selected to serve as chief resident during her final year. Dr. Eaton went on to complete a fellowship in Pediatric Proton Radiotherapy and Clinical Research at Massachusetts General Hospital/Harvard University Medical School in Boston, Massachusetts.
Research
Dr. Eaton's research focus involves the development of clinical trials, particularly related to evaluating new ways of delivering radiotherapy for adult and pediatric brain tumors and assessing the effects of radiation on quality of life.
Publications
Dr. Eaton has been extensively involved in clinical research and has authored multiple peer-reviewed publications evaluating the use of radiotherapy in pediatric and adult malignancies.
Board Certifications
Radiation Oncology
American Board of Radiology, 2015