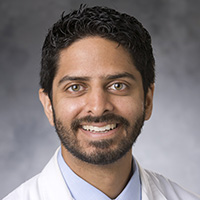 //= get_field('provider_name') ?>
Pretesh Patel MD
TITLE
Director, Residency Program, Department of Radiation Oncology Emory University School of Medicine
Radiation Oncology
Abdominal
Esophageal
Pelvic
Prostate
About the provider
Pretesh Patel, MD, is an Assistant Professor in the Department of Radiation Oncology at Emory University School of Medicine. Board certified in radiation oncology, Dr. Patel specializes in the treatment of pancreatic cancer, colorectal cancer, liver cancer, anal cancer, bladder cancer, kidney cancer, prostate cancer, and testicular cancer.
Dr. Patel is the residency program director in the Department of Radiation Oncology. He is actively involved in teaching and research activities for the residency program and for rotating medical students.
Dr. Patel is a member of multiple professional organizations including the American Society for Radiation Oncology, the Radiologic Society of North America and the American Brachytherapy Society.
Education
Dr. Patel completed medical school and residency in radiation oncology at Duke University. In his final year of residency, Dr. Patel served as chief resident. He earned a BS in Computer Science at Duke University and graduated magna cum laude.
Research
Dr. Patel's research interests include clinical trials for gastrointestinal cancers, novel uses for HDR brachytherapy in genitourinary malignancies, as well as advancements in clinical and technical aspects of SBRT. He is also interested in the use of information technology to improve quality and safety in oncology clinical practice.
Publications
Dr. Patel has authored and coauthored multiple research publications and book chapters. He has presented several abstracts and given oral presentations at scientific meetings.
Awards
Dr. Patel has received several honors including the ABS HDR Brachytherapy Scholarship and Society of Thermal Medicine New Investigator Award.
Board Certifications
Radiation Oncology
American Board of Radiology, 2014