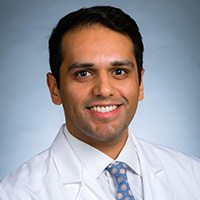 //= get_field('provider_name') ?>
Sagar Patel MD
TITLE
Assistant Professor, Department of Radiation Oncology, Emory University School of Medicine
About the provider
Sagar A. Patel, MD, is Assistant Professor in the Department of Radiation Oncology at Emory University School of Medicine. A board certified radiation oncologist, Dr. Patel practices general radiation oncology and specializes in the treatment of prostate, bladder, and breast cancer, as well as brachytherapy and proton therapy. He sees patients at Emory Saint Joseph's Hospital and Emory Proton Therapy Center.
Dr. Patel is a member of the Cancer Prevention and Control Research Program at Winship Cancer Institute.
Education
Dr. Patel graduated from Harvard Medical School and completed his residency at the Harvard Radiation Oncology Program, where he trained at Massachusetts General Hospital, Brigham and Women's Hospital, Dana-Farber Cancer Institute, Boston Children's Hospital, and Beth Israel Deaconess Medical Center. He completed fellowship training in brachytherapy with a focus on prostate brachytherapy at UCLA prior to joining the faculty at Emory.
Research
During his residency, Dr. Patel completed the Program in Clinical Effectiveness with focus in biostatistics and clinical trial design at the Harvard University School of Public Health. His primary research focuses on comparative outcomes between brachytherapy, stereotactic body radiation therapy, and proton therapy for prostate cancer. He is also interested in the use of protons to minimize cardiovascular toxicity associated with breast cancer radiation therapy.
Publications
Dr. Patel has published and co-authored multiple manuscripts in peer-reviewed journals, and he is a reviewer for International Journal of Radiation Oncology Biology Physics, Practical Radiation Oncology, European Urology, and Cancer.
Awards
Dr. Patel was awarded the ABS Prostate Brachytherapy Scholarship and was the recipient of the William Shipley Research Award at Massachusetts General Hospital.